50 Taper Bridge Type Machining Centers
Machining Centers - Bridge Type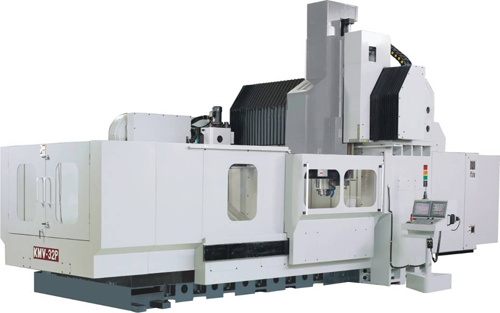 Willis KMV Double Column Machining Center
Features
(1) Overall Machine Construction Castings
The machine base, columns, cross beam, worktable, slide ways, head and all cast parts are of top grade Meehanite Cast Iron and subjected to annealing, to prevent internal stress and deformation.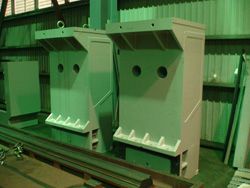 (2) Z Axis
The Z-axis is built with a rigid cast iron box way construction reinforced with optimized internal rib support. It is balanced with Nitrogen in conjunction with dual pneumatic cylinders cushioning of the headstock for automatic balancing during vertical motion. Even in a sudden power failure, the head maintains exact positioning without damage to the tools and work piece.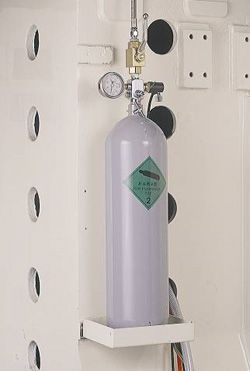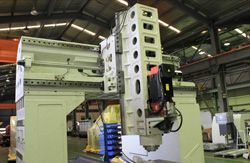 (3) ZF Gearbox
The multi-speed spindle adopts a top quality German-built ZF helical planetary gearbox. Fully sealed immersion type lubrication, with an oil-chiller, keeps the machine running cool. The ZF gearbox provides high efficiency with high torque, low noise, and long service life.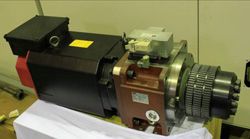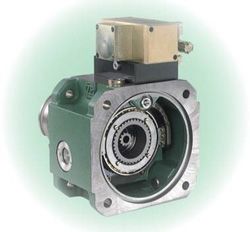 (4) Heavy Preload Spindle
The spindle is housed in a box type structure and rotates on high precision taper roller bearings allowing for all types of heavy-duty cutting without vibration. Tested and adjusted for dynamic balancing, the spindle incorporates a forced circulatory oil chiller to minimize temperature rise and ensure the long term accuracy and service life. An external high capacity coolant system further protects against thermal deformation during heavy cutting at high speeds.
(5) High Rigidity Spindle Nose
Spindle nose to Z-axis slide way distance is less than 300mm, providing an excellent design for increased rigidity.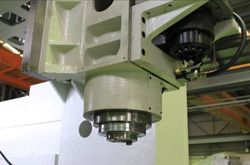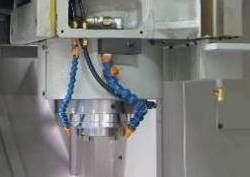 (6) Wide Span Ladder Type Cross slide
Ultra wide ladder type cross beam with dual LM linear guide ways are designed to handle increased inertia. This design ensures rigidity and stability of the spindle and prevents tilting, particularly during heavy duty cutting.
(7) Heavy Load LM Linear Guides
Both X and Y-axes are equipped with high precision heavy duty LM guide ways. This design makes for more accurate movement and easier precision control during machining mid sized to large work pieces.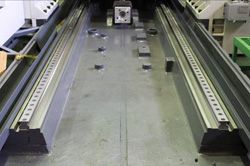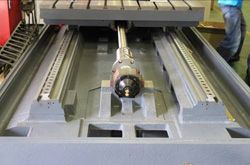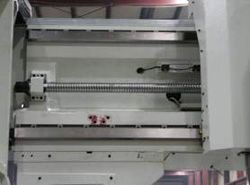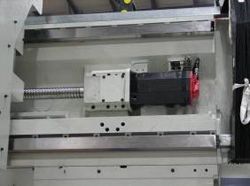 (8) Super Strong Structure
Both the table and base of the machine efficiently distribute heavy loads via A type structural design. The column is cross-rib reinforced to minimize the deformation during high torque conditions. All the major castings are of rational design and of superior grade Meehanite to guarantee rigidity, precision, and long term service life.
(9) Lubrication
Precision scraped Turcites coated on slideways and lubricant pressure fed at a volumetric ratio provide an uniform film of lubricant on all contact surfaces which eliminates both drifting at high speed traverse and slow acceleration during machining.
(10) Transmission
All three axes employ high precision ball screws and servomotors with a direct drive transmission, and each ball screw with a dual pretension nut system and preloaded support at both ends for superior rigidity.
(11) Oil Chiller
The spindle and ball screws at all three axes are cooled by an oil chiller, preventing heat deformation, extending the life of spindle bearings and guaranteeing accuracy at each axis.
(12) Ergonomic Operator Control Panel
The Fanuc 0iMB, 8.4" Color Screen control panel is ergonomically positioned, so the operators get the most advantageous viewpoint during operation.
STANDARD ACCESSORIES:
FANUC 0i-MD (PACKAGE A), 10.4" color LCD display and Manual Guide I
BT50 SPINDLE, 4,500 RPM, OIL COOLED SPINDLE
2 SPEED ZF GEARBOX OIL COOLED
OIL CHILLER FOR 3 AXES BALLSCREWS
32 TOOL ARM TYPE ATC
AIR BLOWER
FULLY ENCLOSED SPLASH GUARD
CONVECTION HEAT EXCHANGER FOR ELECTRIC BOX
SEPARATE HAND WHEELS (MPG)
RS-232 INTERFACE
RIGID TAPPING
WORK LAMP
PROCESS CYCLE PILOT LIGHT
COOLANT SYSTEM (540L)
TRANSFORMER
SCREW TYPE CHIP CONVEYOR
CHAIN TYPE CHIP CONVEYOR
TOOLS & TOOL BOX
ADJUSTABLE BASE LEVELING PADS
OPERATION MANUAL AND ELECTRICAL DIAGRAM
OPTIONAL ACCESSORIES:
Coolant Thru Spindle, 6 BAR
6000 RPM spindle, includes coolant through spindle at 6 BAR
Coolant Thru Spindle 20 BAR+ EXTRA COOLANT SYSTEM (400L) & PAPER FILTER (80L/MIN)
Increased distance between spindle and table by 200mm
Larger capacity tool-changers available
OIL SKIMMER
LINEAR SCALES IN 3 AXES, varies for each machine
TELESCOPED COVER ON TOP FOR KMV-22P/32P
THE 4TH AXIS CABLE PREPARATION
AIR THRU SPINDLE
PROGRAMMABLE AIR BLOW
RENISHAW TOOL PROBE
RENISHAW WIRELESS OPTICAL PART PROBE OMP60
ADDITIONAL OPTIONS UPON REQUEST