Mammoth CNC Heavy Duty Lathes
Large Bore CNC Lathes for Sale

2060 CNC Lathe
CHT-64120 CNC Heavy Duty Large Bore Lathe

CMT-79320 CNC Flatbed Lathe w/ C axis & DRO for X & Z Axes
Willis heavy duty flat-bed CNC lathes are designed primarily for heavy duty turning operations with dramatic productivity. The high quality casting construction of these big bore CNC lathes ensure optimum rigidity and stability for years of reliable, trouble free operation. A Great horsepower motor provides these CNC lathes for sale with powerful cutting capabilities. As with all of Willis Machinery's product line, each CNC lathe is manufactured to the highest quality standards.
Featured on these CNC flatbed lathes is a 4-speed headstock with auto-gear shifting for optimum power and torque. These big bore lathes include a headstock oil chiller for a consistent headstock temperature. These CNC lathes are constructed from a one piece "Meehanite" bed/base casting for maximum rigidity. Hardened and ground alloy steel headstock gears and shafts allow these large CNC lathes to perform with the greatest precision and accuracy. These heavy duty CNC flatbed lathes are ideal machines for the turning of tire molds, steel rolls, valve bodies, and graphite bars, etc.
Lathes Include the Following Equipment as Standard
Rear chip conveyors

4-position automatic horizontal turret

Hardened and ground rotary tailstock quill with hydraulic quill feed

Sliding doors on front of machine for full enclosure of the work area

Full length rear splash guard
Working Examples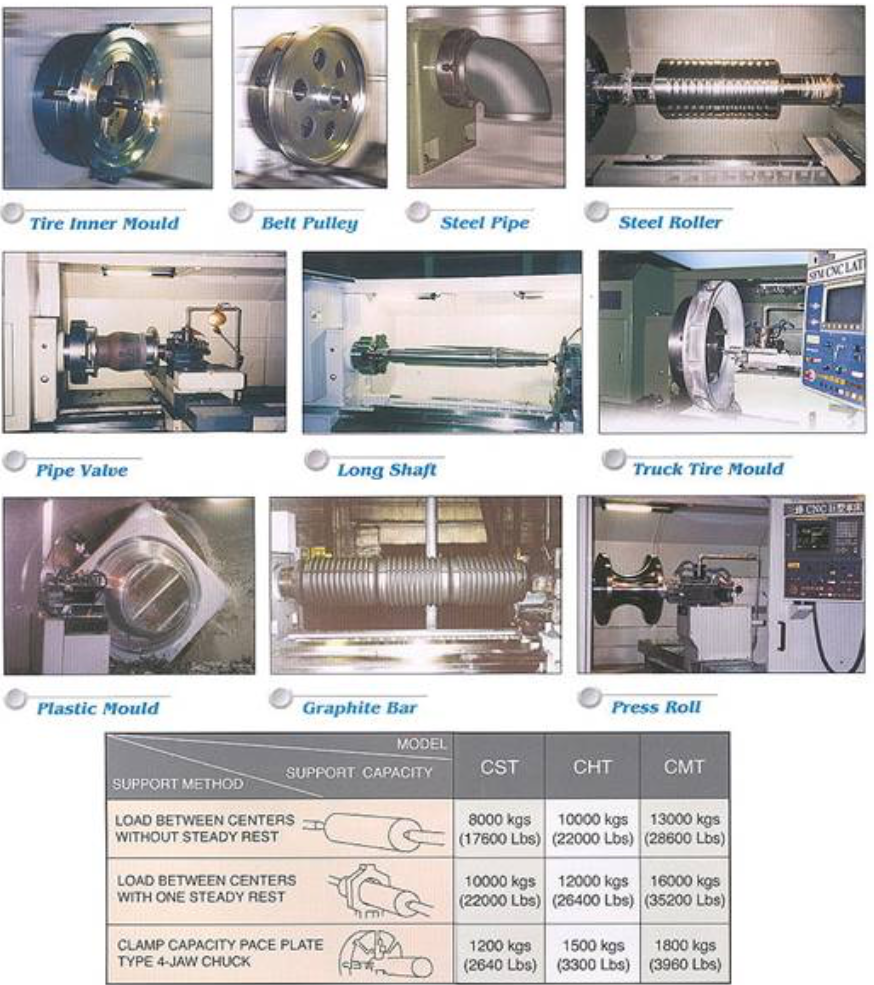 Heavy Duty CNC Flatbed Lathe's Available Options:
9"- 21" Spindle Bore
Vertical 8-station turret
Double turret
Power chucks
Hydraulic tailstock
chip conveyors
double chuck
Willis installs 30' center CNC lathe with live tooling and C axis in Mid-South
A Mid South contract manufacturer had a great opportunity for a new product line. The new products were essentially long cylinders with flanges on both ends. In addition to all the turning necessary, the flanges needed numerous accurately drilled and tapped holes on the face and OD along with some milling work. The cylinders also needed to have holes drilled in precise locations over the entire length of the OD along with some milling work on the OD.
The turning work on the end flanges was pretty straight forward ID and OD CNC turning and much of the machining work could be done on their in house VMC's. However, after the flanges were secured onto the cylinders, there was much machining on the entire new 26'+ long assembly that had to be finished after all the pieces were fitted together.
There are a number of companies that can build machines with these functions, but the investment needed for most of these is in the millions of dollars. The job wouldn't have worked for the manufacturer with that type of initial investment. They came to Willis with this challenge, and we provided them with the Willis LD45360-6 CNC Lathe with Cf axis, live Baruffaldi 8 station turret, and hydraulic chuck.