Solberga Gear Drive Drills
Drilling Machines - Solberga Geared Head Drill Presses

60 years of continued, uninterrupted excellence
Left photo: Nils Widfelt, Solberga president, and Willis Boice, Willis Machinery president, in 1963.
Right photo: Anders Widfelt and Peter Boice (the sons) in 2023.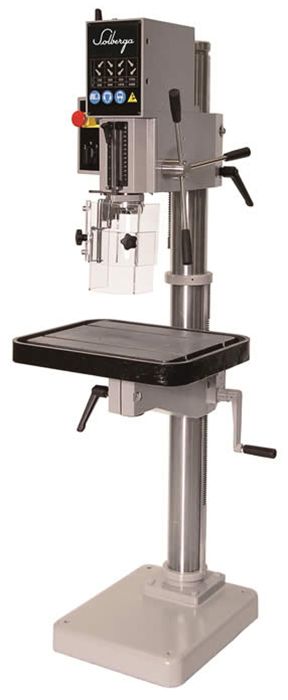 SE 2025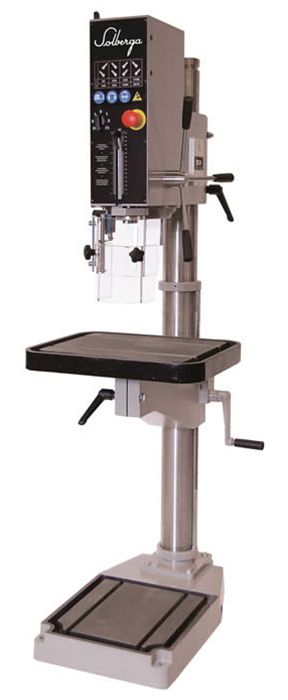 SE 2030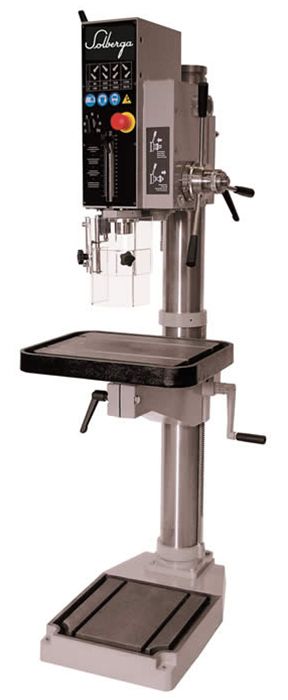 SE 2035 PW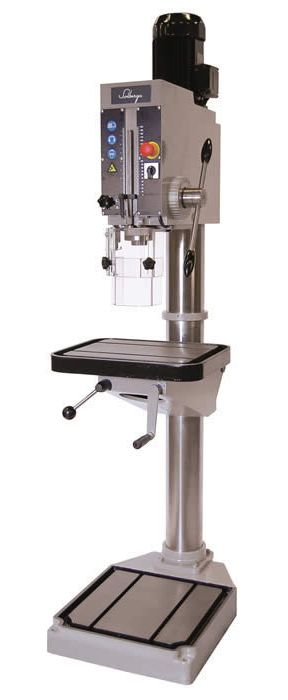 SE 2040
Solberga Features, Functions, & Benefits
Solberga Drill Features:
Adjustable drill head heights on all models (n/a for SE2040)

Drill heads & table arms can swivel 360 degrees around the column (n/a for SE2040)

Helical drive gears with fiber to steel mesh provide a virtually maintenance free, quiet & efficient operation

Spindles and columns are made of top quality Swedish steel

Spindles are designed recessed into the quill housing, providing superb rigidity

Power feed units are equipped with an automatic feed overload

Each machine is equipped with an electric thermal overload switch, no-volt-release, and emergency stop
Solberga Drill Optional Accessories:
Chuck Guard
Flange quills are available for mounting multiple spindle heads
Automatic reversing and foot pedals available for tapping
Flood coolant is available
Manual or power feed machines
Electromagnetic (ELM) models provide electronic push button for power feed engagement or auto reversing for tapping
Available in 220, 440, or 575 volts
Solberga Drill Presses
"Willis-Solberga" geared head drill presses have been made by the Swedish based company "Solberga" for more than 100 years. "Willis Machinery & Tools CO." has been selling these superior pedestal drill presses since 1963. Being the sole importer of "Solberga" geared head drill presses in The United States, "Willis Machinery" is able to offer one of the world's greatest drill presses at an exceptional price, creating a value for the customer that cannot be matched. "Willis-Solberga" drills are also sold with a number of different options. Flange quills are available in order to mount multiple spindle heads. "Solberga" drill presses for sale can either come as manual or power-feed machines. The drills with an electromagnetic (ELM) package provide an electronic push button, for power feed engagement and auto reversing for tapping. Tapping is made possible by the option of automatic reversing or even a foot pedal for convenient operation. Flood coolant is also a popular option for the "Willis-Solberga" drills. Models SE2025, SE2030, and SE2035 all come with a 2-speed, forward/reverse switch, providing 8 spindle speeds. The SE2040 drill press has a single speed motor, and an 8-speed gear box. All of the "Willis-Solberga" drilling machines do have the option of coming with a 220, 440, or 575 volt motor. With the highest of quality parts, and options available at competitive prices, "Willis-Solberga" pedestal drill presses allow customers in maintenance, military, school, fabricating, tool & die, aerospace, and manufacturing operations to fulfill their needs with great ease and efficiency.
Supplying Metal Working Machine Tools to the United States & Canada for More Than 50 Years