Willis CNC Bed Mill Model BTM 60:
Willis CNC Bed Mills RTM60 Series
> 24" x 37" Table Sizes
> 40" x 30" x 28" Travels
> 3,300 lbs.
> Up to 8,000 Spindle Speed Programmable
> 15 Spindle HP
> 10,000 Machine Weight
Willis CNC Bed Mills RTM100 Series
> 30" x 112" Table Sizes
> 33" x 100" x 28" Travels
> 4,800 lbs.
> Up to 8,000 Spindle Speed Programmable
> 20 Spindle HP
> 18,000 Machine Weight
Call us for a free Willis CNC Bed Mill quote today! - (419) 537-1717
"Willis Machinery" offers the RTM series CNC bed mills with a rigid head design utilizing a cartridge type spindle, achieving up to 8,000 RPM spindle speed with its CAT40 taper spindle. These heavy-duty, cast iron framed machines are equipped with wide box ways, hardened and ground with "Turcite", much like the Willis BTM series CNC bed Mills.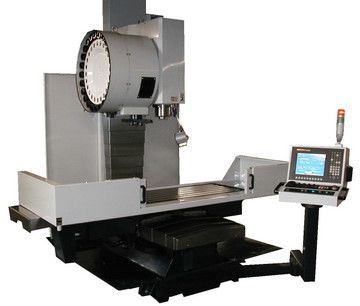 RTM 60 CNC Bed Mill
Willis RTM Series CNC Bed Mill Standard Features and Equipment
"Fanuc" Oi-MD CNC Controls, all "Fanuc" digital AC control and drives are provided on Willis RTM series CNC bed mills.

These CNC mills also include a 20 Tool automatic tool changer (ATC).

Front and Rear Steel Telescoping bedway covers are standard on these vertical travel bed mills

A Chip/Coolant pan is also standard.

A 2-Piece Column Mounted Rear Splashguard provides these CNC bed mills with a clean safe workspace.

A Halogen Worklight provides a bright workspace for these vertical travel CNC bed mills..

The RTM series bed mills provide a table mounted splashguard.

A rigid cartridge type CAT 40 spindle is standard equipment.

High quality, heavily ribbed castings help to create a rigid and high quality CNC machine.

Hardened and ground box ways w/ "Turcite" allow these CNC bed mills to provide smooth travels during operation.

Hardened and Ground Table Surface are also provided on these vertical travel CNC mills.

Programmable spindle speeds help provide easy and efficient operations.

Auto lube system and flood coolant is standard equipment.

Oversize high precision ballscrew is also a provided with these robust, high quality CNC bed mills for sale.
The "Willis" RTM bed mills come standard with the "Fanuc Oi-MDi control, providing three axis or four axis simultaneous controls. These CNC machines are all standard with digital AC controls and drives.
The RTM series CNC bed mills have direct drive spindles. An optional ZF gearbox is available on the RTM series bed mills. The Mills come standard with rigid tapping. The RTM series bed mills are equipped standard with a 20 tool umbrella type automatic tool changer, and optionally available is a 24 tool arm type automatic tool changer. The RTM series CNC bed mills are equipped with an oversize, high precision ball screw on all three axes. The mills are included with an automatic, metered lubrication system with a low level alarm. A flood type coolant system is standard, as are steel telescoping front and rear way covers, a chip pan, and a rear splashguard. A table mounted splash guard is standard on these vertical CNC mills, and a full enclosure is optional.
Fourth axis indexing or full rotary contouring is commonly supplied. X, Y, and Z axis travels range of 100" x-axis x 33" y-axis x 28" z-axis on the RTM 100. Table sizes for the "Willis" RTM series CNC bed mills come as large as 112" x 30" for the RTM 100, which also carries a 4800 lb. table load capacity using a 20HP motor. Digital tool & part probing is available. Optionally offered is "Renishaw", or other major brands.