BTM 40 CNC Bed Mill
CNC Bed Mills
Our BTM 40 CNC Bed Mill features 40 inch x-axis travel, 20 inch y-axis travel and 26 inch z-axis travel. Equipped with a conventional milling head with a 7.5 Horsepower spindle motor, #40 taper spindle, 16 inch x 54 inch t-slotted table, wide square ways that are hardened and ground, precision ballscrews, push button power drawbar and automatic metered lubrication. This Mill has the Fagor 8055 CNC control with both conversation and g-code programming.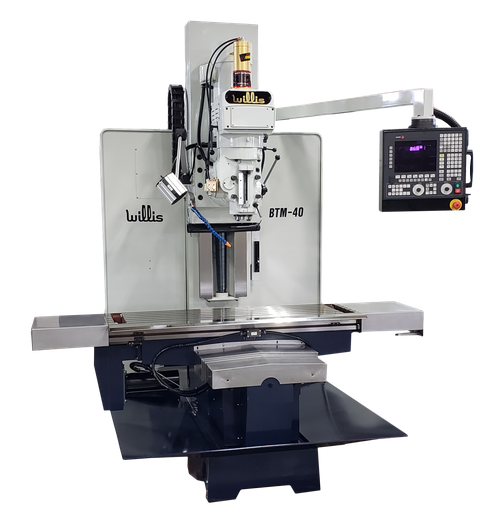 BTM 40 CNC Bed Mill
Willis BTM Series Vertical Travel CNC Bed Mills
The Willis BTM series CNC bed mills provide AC inverter drive motors to allow for variable spindle speeds

These large CNC bed mills also allow for programmable spindle speeds

CAT 40 or NMTB 40 taper spindles are available on Willis large vertical travel bed mills

Power, DC brushless servo motors provide these CNC bed mills with smooth and precise positioning

Willis bed mills include hardened and ground box ways on the saddle and column for sturdy and precise operations

These large CNC bed mills also provide hardened and ground T-slotted table work surfaces

All Willis CNC bed mills allow for a massive 27 inches of z-axis travel to provide a larger available workspace

These CNC machines also incorporate a quill with 6" of manual travel

These bed mills have controls featuring full 3-axis contouring CNC capabilities as well as internal and external thread milling. An optional 4-axis CNC is also available on Willis CNC bed mills

An automatic, metered lubrication system is standard equipment on Willis CNC bed mills

Chip pans and splash guarding are optionally available with these large bed mills as well as a "Maxi Torque-rite" pushbutton power drawbar

A Manual Pulse Generator (MPG) hand-wheel is also offered for manual positioning
CNC Machinery - Vertical Travel Bed Mills
Willis Machinery and Tools offers two different models of CNC bed mill with conventional mill heads: the BTM-40 and BTM 50. Providing customers with different sizes and capabilities, the BTM-40 allows for 40 inches of x-axis travel where the BTM-50 is able to provide 50 inches of x-axis travel. Willis CNC bed mills offer high quality, heavily ribbed castings. These large bed mills are provided with hardened and ground box ways as well as hardened and ground table surfaces for accurate machining. In addition to an oversize, high precision ball-screw, Willis CNC bed mills include programmable spindle speeds plus automatic lubrication and flood coolant systems. If a more rigid head is required for specific applications, Willis Machinery offers the RTM series, a large CNC bed mill with a machining center style head.