Cylindrical Grinders
Universal Cylindrical Grinding Machines
Built by skilled craftsman using high precision components Willis Cylindrical Grinders provide years of high accuracy trouble free operation for a minimal initial investment.
Featuring hydrodynamic spindle bearings and precision hand scraped ways Willis Machinery Cylindrical Grinding machines produce high tolerance parts with superior surface finishes. Excellent repeatability is achievable by our use of a grinding class cross feed screw and nut.
Available in a variety of configurations manual, automatic and PLC controlled our small cylindrical grinder will be the perfect fit for your grinding application.
This series of cylindrical grinders has available capacities from 11" – 15" swing and center distances from 16" – 39" cc depending on your needs. They also meet a variety of cylindrical grinding machine price points.
Other cylindrical grinding machine manufacturers cannot compete with the Willis line.
Note: Our HD series offers large capacities for other applications. Please inquire to find out about other cylindrical grinder for sale.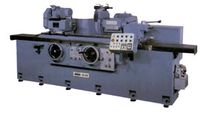 G30-100AGC
Machines available from 10" swing x 14" centers up to 15" swing x 80" centers
7.5 HP wheelhead motor
Grinding wheels up to 16" x 3"
30 degree wheelhead swivel
120 degree workhead swivel
10" wheelhead stroke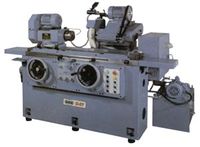 G27-50H
Available Machine Configurations
M: Table traverse and wheelhead cross feed are all manual
A: Table traverse is hydraulically driving. Wheelhead cross feed is manual "A" with wheelhead rapid approach and retraction. Wheelhead cross feed by manual
AGC: "H" with wheelhead rapid approach and retraction. Wheel head cross feed by auto
DAS: "AGC" with automatic sizing device
NC: PLC controlled machine with ballscrew and servo motor for wheelhead and fully automatic work cycles
Optional Accessories
A101 Internal grinding attachment
A102 Double-shoe steady rest
A103 Triple-shoe steady rest
A104 Scroll chuck & plate (#5 or #6)
A105 Magnetic chuck & plate (#6)
A106 Magnetic coolant separator
A107 Dust collector
A108 Angle dresser
A109 Rasius dresser
A110 Wheel balancing stand
A111 Spare wheel flange
A112 Tungsten carbide half center
A113 Automatic dog set (6pcs/Set)
A114 Grinding gauge for manual sizing
A115 Hydraulic wheel dresser
A116 Microfeeder for wheelhead
A117 Work rest (two-piece set)
A118 Tailstock with hydraulic operation
A119 5C collet chuck mounted on workhead
A120 Auto loader
A121 Paper filter