RTM100 "Open" CNC Vertical Machining Center
Specifications:
> 30" x 112" Table Sizes
> 33" x 100" x 28" Travels
> 4,800 lbs.
> Up to 8,000 Spindle Speed Programmable
> 20 Spindle HP
> 10,000 Machine Weight
> Counter balance for milling head
> 18,000 Machine Weight
Call us for a free Willis CNC Bed Mill quote today! - (419) 537-1717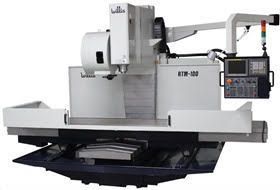 RTM100 "Open" CNC Vertical Machining Center
Machine Features:
Fanuc 0i-MD control AC all digital control
Fanuc Manual Guide I control software
15HP continuous duty Fanuc servo motor for spindle
All Fanuc AC digital servo motors for each axis
100 amps disconnect switch
RIGID HEAD CAT#40 taper spindle
Up to 6,000RPM spindle speed
(24) tools ATC CAT#40
(24) CAT40 retention knobs
30" x 112" working table
X, Y, Z Travel 98" x 33" x 26" (2500mm x 874mm x 700mm)
Z-axis brake assembly
2-piece column mounted vertical rear splashguards
Chip / coolant tray for base of machine
Table mounted splashguard
Front and rear metal telescopic covers for bed-ways
Metal telescopic cover for column ways
Halogen working lamp
Heat exchanger for electric cabinet
MPG electronic hand-wheel for manual axis movements
Auto lubrication pump
Flood coolant system
Power Oil Filter
Heat exchanger for electric cabinet
Ethernet connectivity
3-color alarm light
Leveling bolts and pads
All manuals, parts list, and inspection report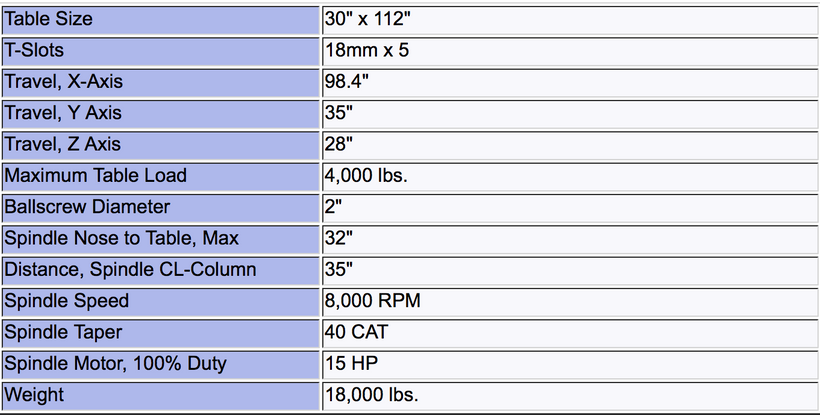 Bedmill Features and Optional Accessories:
The "Willis" RTM bed mills come standard with the "Fanuc Oi-MDi control, providing three axis or four axis simultaneous controls. These CNC machines are all standard with digital AC controls and drives.
The RTM series CNC bed mills have direct drive spindles. An optional ZF gearbox is available on the RTM series bed mills. The Mills come standard with rigid tapping. The RTM series bed mills are equipped standard with a 20 tool umbrella type automatic tool changer, and optionally available is a 24 tool arm type automatic tool changer. The RTM series CNC bed mills are equipped with an oversize, high precision ball screw on all three axes. The mills are included with an automatic, metered lubrication system with a low level alarm. A flood type coolant system is standard, as are steel telescoping front and rear way covers, a chip pan, and a rear splashguard. A table mounted splash guard is standard on these vertical CNC mills, and a full enclosure is optional.
Fourth axis indexing or full rotary contouring is commonly supplied. X, Y, and Z axis travels range of 100" x-axis x 33" y-axis x 28" z-axis on the RTM 100. Table sizes for the "Willis" RTM series CNC bed mills come as large as 112" x 30" for the RTM 100, which also carries a 4800 lb. table load capacity using a 20HP motor. Digital tool & part probing is available. Optionally offered is "Renishaw", or other major brands.